Exhibitions
Expoplu Experiment: Through the Gate, darkly
Joeri Woudstra & Audrey Large
10.07.2020 - 09.08.2020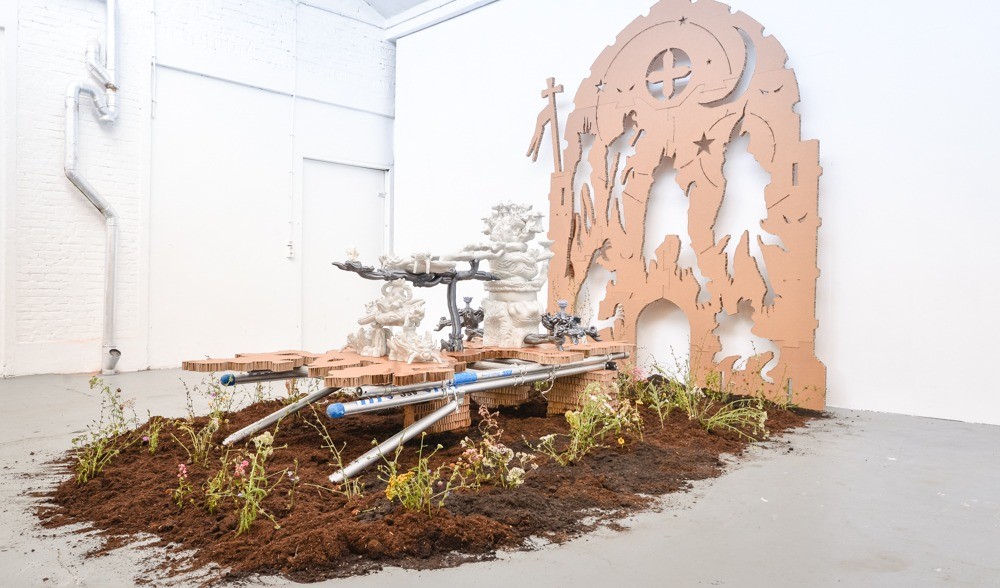 Expoplu Experiment: Through the Gate, darkly is a duo exhibition with two young talents that transformed the exhibition space of Expoplu into a sprightly, vibrant studio during a short working period. An experiment in which meeting, collaboration and exchanging each other's materials and methodologies are central. Because of the inability to meet physically by COVID-19, artists Joeri Woudstra and Audrey Large started their dialogue in digital surroundings. For this edition of Expoplu Experiment, Woudstra and Large are given a free hand to create a new (collaborative) work within the walls of a physical exhibition space, as a digital version of Expoplu. Through the Gate, darkly is on show from 10 July to 9 August 2020 in Nijmegen.
Joeri Woudstra is a multidisciplinary visual artist and composer based in The Hague. In his work, Woudstra researches the way technological acceleration and contemporary information culture affect our perception of time and our collective feeling of generational melancholy. The ruin and relic-like collage work he creates resonate the echoes of contemporary pop culture in a future retrospect. Woudstra's work looks at archiving moments of popular techno-culture by remembering them as if they happened in the past. By removing objects from their original context, a specific type of decontextualization occurs, which often takes form as works of collage. By doing so, he simulates a distance between the viewer and the subject. The passive elements become active elements, allowing the viewer to appreciate and recognize the value of an object they never bothered observing.
Audrey Large is a French designer based in the Netherlands. Straddling between art and object design, her practice explores the potential of digital image manipulation processes applied to the design of our material surroundings. For her, objects are images and images are objects. Whether moving, 2D or 3D, she considers herself a maker of images. In a context of exponential digitalization, she positions her practice in an interdisciplinary form of design that utilizes digital cinema as a field of research to rethink object design methodologies. Large combines film techniques with production processes from digital to material, in a quest to create objects that make you wonder whether they are real or digital. Her work seeks to blur the lines.