Exhibitions
Symbiosis Series #1
Natalia Jordanova & Alexandra Martens Serrano
Curator: Fenne Saedt
19.06.2021 - 18.07.2021
Arnhem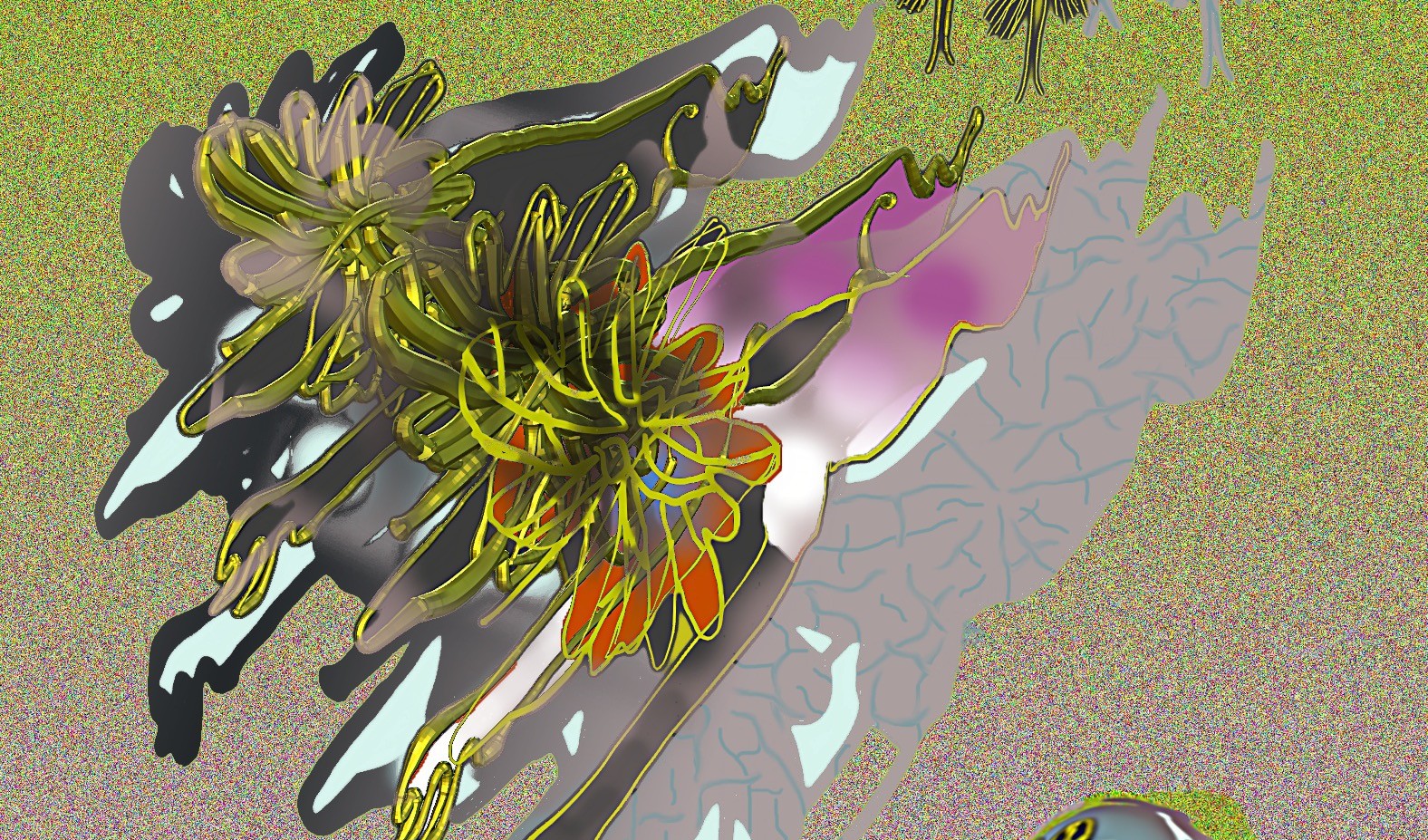 Symbiosis (Sym- same, bio-living) - sɪm.baɪˈəʊ.sɪs – is a relationship between people or organizations that depend on each other equally, or two types of animal or plant in which each provides for the other the conditions necessary for its continued existence (Cambridge Dictionary).
Over a billion years ago, one type of bacteria ate another - or at least tried to. Surviving this trauma (one eating the other), the prey became a permanent house guest in the liquid, sheltered, food-rich environment of the predator's body. Like an internal battery, the smaller bacteria adapted to turn food and oxygen into chemical energy for the larger one. Eventually, by swapping segments of DNA, the two bacteria merged into a single, inseparable, complex cell. This ultimate partnership is the ancestor of all multicellular life, including our own species. These descendants of bacterial ancestors power each and every cell in our bodies.
This process is what we now know as symbiosis, which refers to a long-term ecological exchange between different organisms or species that live close together, where one or more of the species benefits.
With SYMBIOSIS SERIES, curated by Fenne Saedt, POST provides artists with space, resources and support to experiment and create new work. The artists are stimulated to interact with one another in various ways, similar to the natural process of symbiosis. It is an interaction in which exchange and collaboration is possible, while (re)shaping the individual practice. Sometimes selected artists differ in medium or conceptual positions, in this case the exhibition often results more into a visual dialogue. Other times their practices are more aligned, which makes that the exhibition itself could become one entity.
The artists are free to experiment, research and break up their modus operandi. It is a collaborative process where artists who were previously unknown to each other exchange visions, working methods and vim and vigor. The exhibitions within this series often lead to lively, wild, large-scale elaborations that sparkle with energy.
Within the first SYMBIOSIS SERIES Natalia Jordanova and Alexandra Martens Serrano met during a 10-day working period in the exhibition space. Both artists research how language can function as a transferal of cultures. Is a fortune teller's prediction just as accurate as the 'factual' information claimed in history books? Interested in phenomena such as mapping and transferring of information, constructions, and grids, they work with a variety of mixed media: from paintings with melted crayons to a sculpture made from refurbished Iphones.
Working with technology as a mediator, they both question what it means to be human today. Symbiosis series turned out to be a quest in which many similarities between their practice and interests were found.
Biographies participating artists
Alexandra Martens Serrano (1991, NL/SV)
Alexandra Martens Serrano is a multidisciplinary artist and researcher currently based in Amsterdam, she holds a BA Fine Arts from The Royal Academy of Arts in The Hague (2014) and is currently in the midst of an MA Art Praxis at the Dutch Art Institute. She has been a resident at Deltaworkers in New Orleans (U.S.A 2018), at Billytown in The Hague (NL 2015) and LAGOS in Mexico City (MX 2019). Additionally, she has undergone multiple autonomous research periods within Latin America; Labor of (Eco)nomic Performances in Wake of Heat Waves (GT/SV 2017), Artefacts as Pursuit of Intimate Transaction (CL 2016) and Anthropomorphism within the Metropolis (MX 2018). Since 2017 she has been developing an ongoing project titled 'Dragged Ways of Knowledge' in collaboration with Finish curator Jussi Koitela. This collective curatorial artistic endeavor operates in various time scales and diffractive rhythms, taking shape in formats such as artist talks, exhibitions and publications.
Moreover, her artistic practice has been granted support on multiple occasions by STROOM and Mondriaan Fonds. Additional education includes PSY-SOMA-TEK a workshop by Susan Ploetz (2021), visualization workshops by Mala Kline (2020/21), We Live Here: Remaining Strangers Lab by Simone Aughterlony (2019) and an internship with Katja Novitskova. Her work has been exhibited internationally including presentations at Alkovi Gallery (Helsinki FI 2019), SQUASH (Mexico City, MX 2018), Prospects and Concepts at Art Rotterdam (NL 2019), New Orleans Contemporary Arts Center (U.S.A 2018), 3000 Degrees (BE 2018) Ainda Mt Nada (BR 2020), STROOM (NL 2018) and NEST (NL 2012).
Natalia Jordanova (1991, BG)
Natalia Jordanova is an interdisciplinary visual artist who currently works between Amsterdam and Sofia. Her education includes a master programme at the Dirty Art department of Sandberg Institute in The Netherlands (2020); BA Fine Arts from Royal Academy of Art in The Hague (2018), BA Photography from the National Academy of Theatre and Film Arts in Bulgaria (2013) and Erasmus exchange programme at Central Saint Martins in London (2017).
Her most recent presentations include a solo show at Rosa Stern, Munich and a Virtual Reality residency "Authentic Spaces" in Zeitz, Germany. Last year she participated in Unfair Temporary Museum in Amsterdam; group exhibition at the Sofia City Art Gallery for BAZA Award for contemporary art; solo presentation at Art Rotterdam 2020, where she received a nomination for the NN Art Award; collaborative performance, developed for and shown at De School, Amsterdam. She took part in FINALE, a group exhibition at Structura Gallery in Sofia, after participating in a group show curated by Jeanette Bisschops and Manique Hendricks, called Untouched Intimacies, 2019.
Her work has been exhibited internationally, including presentations at Sofia Art Week 2019, Magma Festival at Kanal Centre Pompidou, Brussels (2019), THE COMMON INN at Het Nieuwe Institute, Rotterdam (2019), Untouched Intimacies at NEVERNEVERLAND, Amsterdam (2019), The Nudist on the Late Shift, The Hague (2018), SUPERVUE, Liège, Belgium (2018), W139, Amsterdam (2017), Lockers, Stedelijk Museum, Amsterdam (2017), The Old Police Station, London (2016), (De)Quantify Me!, TENT, Rotterdam (2016), the fridge, Sofia (2016), Institute for Performance and Theory project, Haspel Art Centre, Sofia (2014), Trans–Ideology Short Film Festival, Berlin (2012).