Exhibitions
When Stones Awake
Raul Balai, Semâ Bekirović, Olga Ganzha, Lennart Lahuis & Suat Ögüt
Curator: Youri Appello
05.06.2021 - 18.07.2021
Nijmegen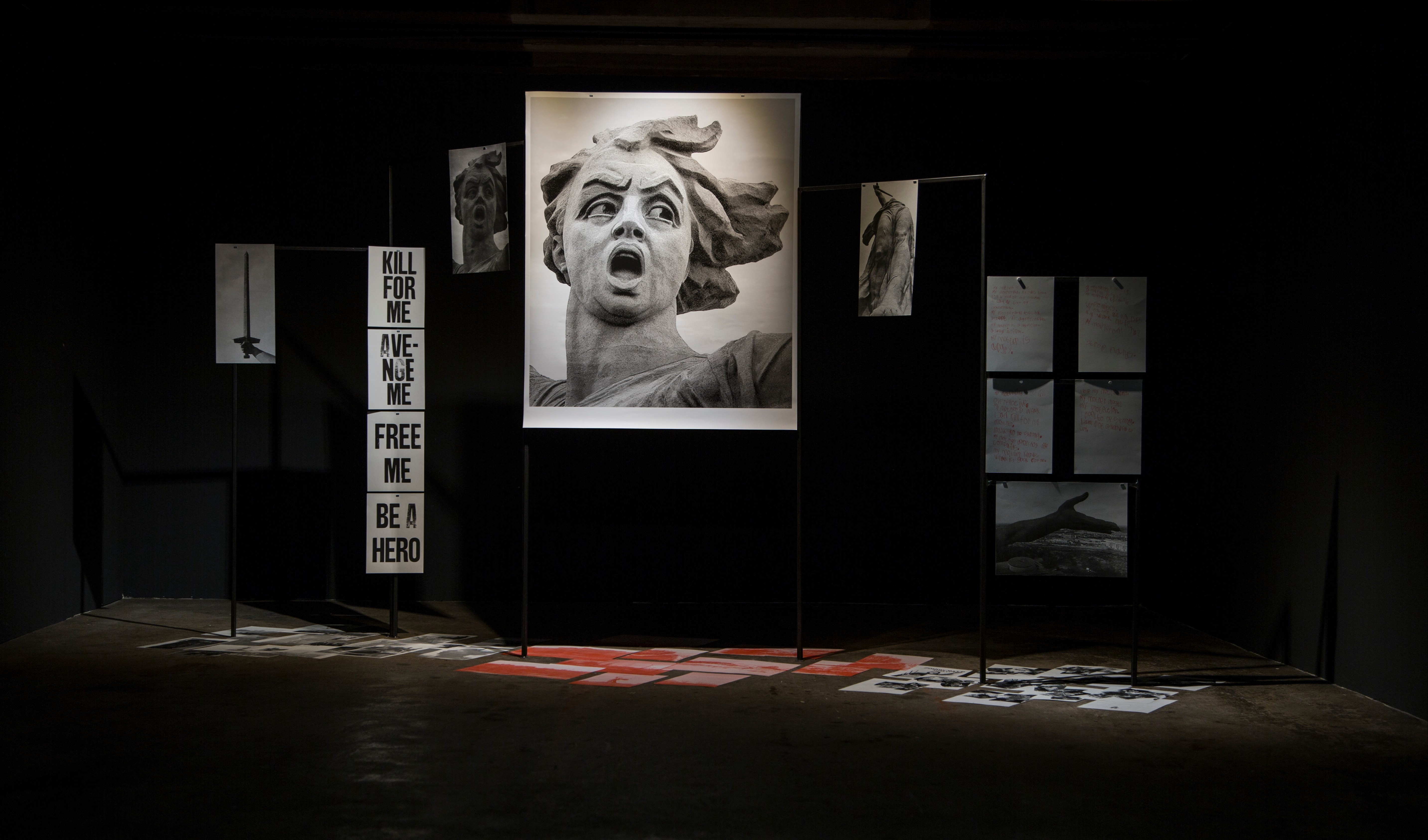 "You live only as long as the last person who remembers you" (Akecheta, Westworld)
While some people and events are literally and metaphorically written in stone, others are not. It urges to ask: what exactly does it mean to be remembered and what does it mean to be forgotten? When Stones Awake centralizes questions concerning our public way of remembering specific people and events. It presents artworks that deal, directly or indirectly, with the notion of remembering through monuments. The exhibition, curated by Youri Appelo, is looking backwards and thinking forward to raise questions concerning authorship of monuments, and mirrors memory and oblivion as symbols for life and death.
Almost everywhere in the world there are examples of monuments to be found, to remember and commemorate places of importance, specific events, individuals or groups that left their mark on history - both in a positive and negative sense. It appears to be a deeply human need and global phenomenon to transform moments of time into solid materials. With the goal to let what the moment or the person represented, exceed its own time. It is not a coincidence that 'written in stone' basically means permanent or for eternity, but also ironically that many monuments expired their expiration dates sooner than expected.
The interwovenness between monuments and administrations of power is undeniable. When the winds of power blow in different directions, the perspective on what is of relevance in the past and the present changes equally with the gusts of wind. The notion that history is written by the 'victors' draws into this idea. At the same time, while observing the amount of monuments that are being toppled or demanded to be taken down due to their problematic colonial and unaddressed histories, it seems that these battles those 'victors' won were never over to begin with. It shows that history is not something static or objective, but blurry and messy, and very different depending on different personal and cultural perspectives. History can be written down or visualized differently depending on the author. This is also demonstrating the socio-political impact of authorship, for instance by promoting or even propagandizing a different, dominant, incomplete and/or false narratives for decades or ages which causes collective moral amnesia concerning problematic historical events. When specific histories are not addressed, pressed away or denied, it is being endangered with oblivion. When something is forgotten and lost in oblivion, there is no possibility to recall or remember it, and therefore bring it back to life.
The struggle for the pen that dictates history is ongoing. On a more metaphorical level we could say that the solid material of monuments could represent the factual happenings in history. The solid material as the evidence that something occurred, or somebody was. But the way how the material is molded, shaped and written down is the narrative we attribute to those evidences and facts. Together, both material and shape, function as the (currently available and allotted) window into history.
The idea that monuments keep narratives that are authored by administrations of power alive in our memories, and therefore overrule unaddressed histories and endanger them with oblivion, is key to the exhibition When Stones Awake. It forces us to acknowledge and address the presence of monumental authorship and therefore come to terms with the subjectification of history within monumental storytelling.
The exhibition hopes to generate thoughts concerning collective and democratised co-authorship in regards to monumental storytelling; to enable the society at large, with all its complexities, to be responsible for the telling of our collective stories. To move towards fluid monuments of intersubjectivity that are reshaped, rewritten, retold as a default mode. Not written in stone but in lava. And to conclude that the rejection of eternity might be the definition of life.
Photo: Olga Ganzha, Motherland is Calling
Extra info
Participating artists:
Raul Balai (1980, NL)
Raul Balai a.k.a. el bastardo, is an Amsterdam based artist. Balai is fascinated by the way our exploitative state of mind frames the shape of the world. How this is present in the everyday and the everywhere, and the way the media and academia repeat and portray our world as part of the western 'situation', its peoples bravado and its countries heroism.
He is an artist that constantly is refining his visual and conceptual vocabulary that emerges through points of intersection between painting, installations, sculptures, graffiti, (graphic) design, illustration, video and photography.
In recent years Balai has exhibited, amongst other, at Countour Biennale (Belgium), Biennale Dak'Art (Senegal), M HKA (Belgium), Galleri Image (Denmark), NEST (The Netherlands), WM Gallery (The Netherlands), The Black Archives (The Netherlands) and the Rembrandt Museum (The Netherlands).
Semâ Bekirović (1977, NL/TR)
In her practice she is inspired by biology, philosophy, history and science. Her work is informed by notions of emergence, the (non existent) border between nature and culture, and all imaginable kinds of natural phenomena and processes. She addresses the importance, for us as human objects, to try to assume a more modest position in relation to other living and non-living objects.
Within her practice Bekirović aims to re-think positions of power. Hierarchies within the art work, the fluctuating network of nature and social constructions, and power structures within human culture.
Semâ Bekirović is an artist based in Amsterdam. She is a former-resident at the Rijksakademie van Beeldende Kunsten and was nominated for the Prix de Rome. Her work has been presented, among many others, at GEM, Garage Rotterdam, Stedelijk Museum Amsterdam and FOAM.
Olga Ganzha (1981, RU)
Olga Ganzha is Russian multimedia artist who lives and works in The Netherlands. Her works range from photography, graphics and artist's books to texts and audio-visual installations. She received her MA in Linguistics and Literature from Volgograd state university (RU) and a BA in Graphic Design from St.Joost Art Academy in s'Hertogenbosch (NL) in 2012.
In works she often looks for balance, connecting disjointed elements or elements of different grounds in an interdisciplinary way; ritualizing personal memories of history and culture in 'art-like' shapes. Her projects: Want to see my etchings? (2016-2017) and Motherland is calling (2017-2018) were presented in various locations in The Netherlands, in a form of solo shows and group exhibitions. Also she participated in a number of exhibitions and collaborative projects in Europe, Africa and former Soviet countries.
Lennart Lahuis (1986, NL)
Lennart Lahuis received his BFA from the Artez Institute of the Arts in Zwolle in 2011. He was resident at de Ateliers (NL), BANFF Centre for Arts and Creativity (CA) and Morgan Conservatory, Cleveland, Ohio (US).
Through a wide variety of materials and techniques Lahuis subjects texts and imagery to natural processes, such as evaporation, combustion and erosion, to explore the material conditions and limits of readability. He emphasizes the idea of visual communication as an act of trace making and lays bare the ephemeral and poetic qualities inherent in this approach.
Recent solo and duo exhibitions include 'Constant Escapement' at the Fries Museum in Leeuwarden, Netherlands; 'Land Slides' at the National Museum of Ceramics 'Princessehof' in Leeuwarden, Netherlands; a solo presentation at Art Brussels with Dürst Britt & Mayhew and 'Dead Seconds' with Willem Oorebeek at Shanaynay in Paris. Recent group exhibitions include 'Burn It!' at the Krefelder Kunstverein / Kunstverein Mönchengladbach / Weltkunstzimmer Düsseldorf, Germany, 'Common Ground' at the AKZO Nobel Art Foundation in Amsterdam and 'On Paper' at the Stedelijk Museum Schiedam.
Suat Ögüt (1986, TR)
Suat Öğüt graduated from Marmara University, Fine-art Education Department, Painting and Sculpture department in 2007. Between 2011 and 2013 he was in a post-graduate program at HISK, in Ghent, Belgium. Since 2015, Öğüt is one of the founders of Corridor Project Space in Amsterdam.
In his works, he has an interdisciplinary approach to his work, which wanders around identity, biography, artworks values and cultural consumptions by relationship about memory, perception and witness. His works were exhibited at Amsterdam Museum, IJsselstein Museum, Framer Framed, Van Gogh Huis, Melkweg, Get-Lost, Corridor Project Space, W139, PuntWG and Unfair in the Netherlands. He currently lives and works in Amsterdam.