Exhibitions
Bridging Borders
Janina Frye, Isabella Fürnkäs & Tobias Groot
Curator: Youri Appelo
19.02.2022 - 27.03.2022
Arnhem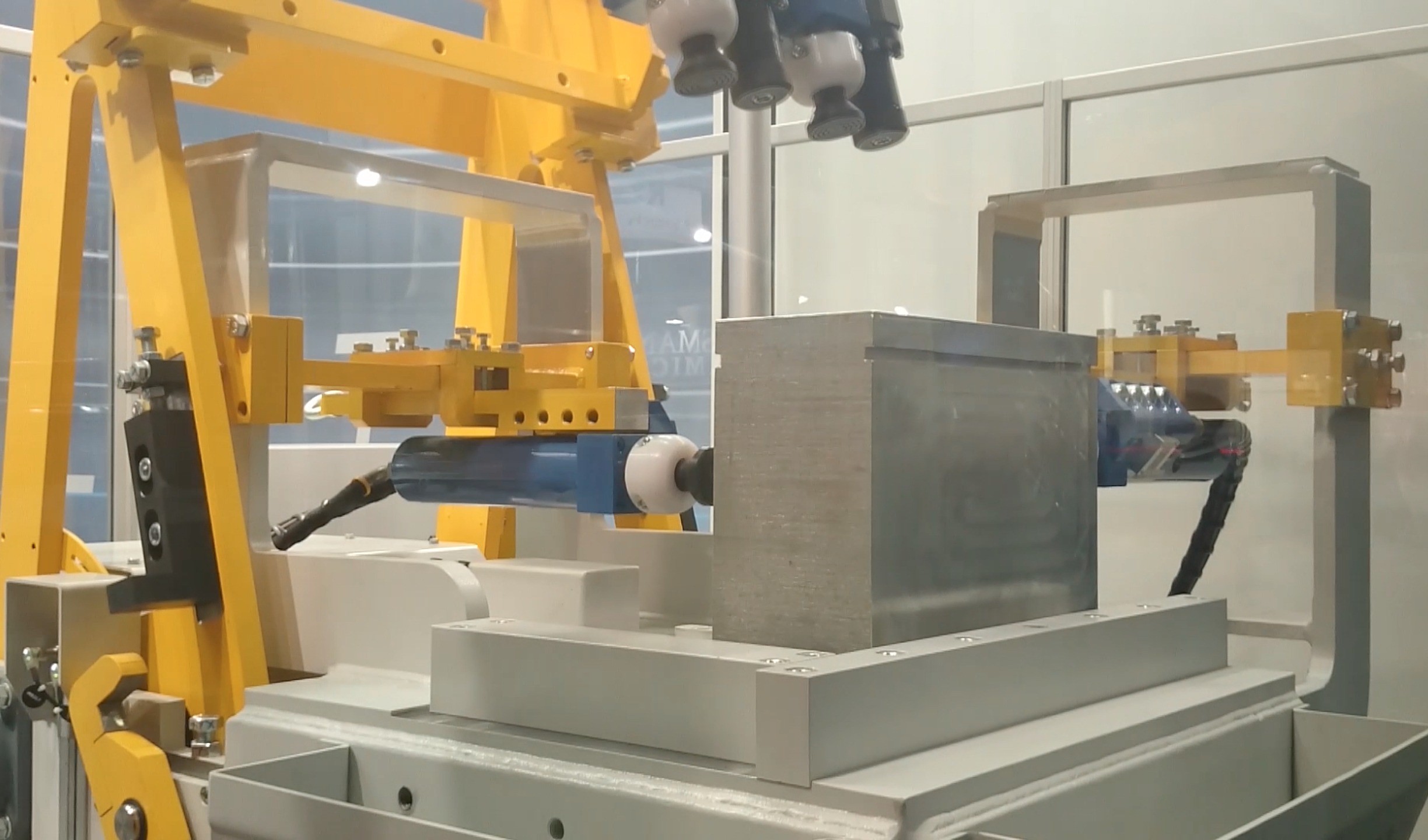 Bridging Borders is a collaborative project between P–OST and Constant 1 0 1 | On Our Means and Perspectives. For this exhibition P–OST invited three artists that, in their work or practice, are engaging with the relationships between machines or technology and human-beings. In Bridging Borders the works of the participating artists are contextualized within the thinking of Constant Nieuwenhuys. Central to the exhibition is the question to what extent automation, machinery or technology provide humans with freedom or captivity when they become more and more intertwined with one another.
For Bridging Borders P–OST was inspired by the notion of a world without borders, which is central in the New Babylon project by Constant Nieuwenhuys (1920 – 2005). As a platform that is operating in a border-area, we would like to take this idea at heart and aim to break down the borders, in our case specifically between the Netherlands and Germany. Therefore P–OST invited for Bridging Borders a mixture of artists that are German based or based in Germany.
In Bridging Borders national borders are not the only ones who are being questioned and lifted. The selected artists and artworks are specifically selected on their dealing with the relations between the human and the machine. In New Babylon, besides the borderless world, Constant also sketches a future world in which humans are liberated from labour through automation. All selected artworks deal in one way or another with the (possible) impact of technology, automation or blending of the human and the machine. We invited art-historian Tessa Kalsbeek to write a contextualizing text on how Constant's ideas relate to the presented artworks and the ideas they bring forward.
Extra info
CONSTANT 1 0 1: On Our Means and Perspectives
CONSTANT 1 0 1: On Our Means and Perspectives is a multidisciplinary program of projects in collaboration with Dutch museums, presentation institutions, archives, individual makers, magazines, publishers and educational institutes.The aim of Constant 1 0 1 is to shed light on the connection between cultural heritage and contemporary makers, between history and current events. We pass Constant's ideas on to the future generation; with new perspectives, new work, new partners, new audiences and perhaps new hope. Through the programming we offer an artistic platform to contemporary artists, makers and thinkers in relation to Constant. Within a horizontal organizational structure, we connect them with partners from different cultural disciplines, organizational profiles and regions in order to develop an interdisciplinary annual program, in which current practice relates to cultural heritage, archives and the Dutch national art collection. The various projects are based on the four "constants" New World, Playing Man, Collective and Conflict, Romanticism and Dialectics.

Artists:
Isabella Fürnkäs (1988, JP)
Isabella Fürnkäs is an artist who works in a variety of media. The body of work involves equal shares of video, multi-media installation, performance and drawing. In her multi-layered oeuvre she addresses questions of physical and spatial intimacy, the influence of digitalization on interpersonal relationships, and the transformation of social communication patterns. By manipulating the viewer, Fürnkäs creates contextual shifts that echo our own vulnerabilities. In the context of her works, inner images and multi-layered questions are transformed into a repertoire of media-reflexive actions via performative, installative and time-based techniques. Experimental by nature her works involve a subtle comparison of the individual and its society, creating situations in which the viewer becomes aware, by the very moment of their body through space.
She is the recipient of the Förderpreis des Landes NRW and of the Paris Cité des Arts grant. Her work was exhibited at Kunsthalle Wien, Sprengel Museum, Museum Abteiberg, at the 13. Biennale for Contemporary Art Dakar and in the project space of the Julia Stoschek Collection in Düsseldorf. Her performances were recently on view at Salon Acme in Mexico City, Kölnischen Kunstverein, Manifesta 11, Akademie der Künste der Welt and Pogobar KW Institute for Contemporary Art Berlin. She has participated in numerous residency programs including the Bronner Residency Tel Aviv; Goethe Institut, Dakar and the travel grant of the Kunstverein für die Rheinlande und Westfalen. Fürnkäs is a Fellow of the Berlin Masters Program 2021 and a scholar of the Akademie der Künste Berlin in 2021. Her first solo-show with Hua International will open Dec 2021.
Janina Frye (1987, DE)
Janina Frye investigates the concept of the human which is being shaped by its physical environment. She describes it as a transformative system with connections, overlaps, and entanglements linking the body to the outside world. Through the lens of new materialism, systemic theories, and her personal observations, Frye puts forward the idea that the human skin is not a border but an interface to the outside world. She lives and works in the Netherlands and UK. In 2014, Frye received her BA from AKV St. Joost 's-Hertogenbosch (NL). In 2018, Frye followed her studies at the Sculpture department of the Royal College of Art London. Last year, she was a participant at the EKWC (European Ceramic Work Center) in Oisterwijk, NL. Recently, her work got selected for the New Contemporaries 2021 in the UK. Her work has been shown at P/////AKT in Amsterdam, NL, at Firstsite Colchester, UK, at the Old Operation Theatre Museum in London, UK, and at Onomatopee in Eindhoven, NL.
Tobias Groot (1994, NL)
Tobias Groot is an interdisciplinary artist currently based in Berlin, working with CGI, photography, and artificial intelligence. Tobias is driven by two main interests: the human body and new technologies. His digital conglomerations contend with artificial intelligence and humans' fleshy embodied experience. Utilising computational processes such as algorithms and neural networks to create images and stories revolving around themes of physicality, intimacy, transhumanism and authorship. Combining personal work with the non-human and sometimes unpredictable nature his machines, Tobias plays with the idea of collaborating with a machine, highlighting its flaws, while trying to get a grip on its inner workings.