Exhibitions
Nucleus of Capital
Nina Støttrup Larsen
17.04.2021 - 16.05.2021
Nijmegen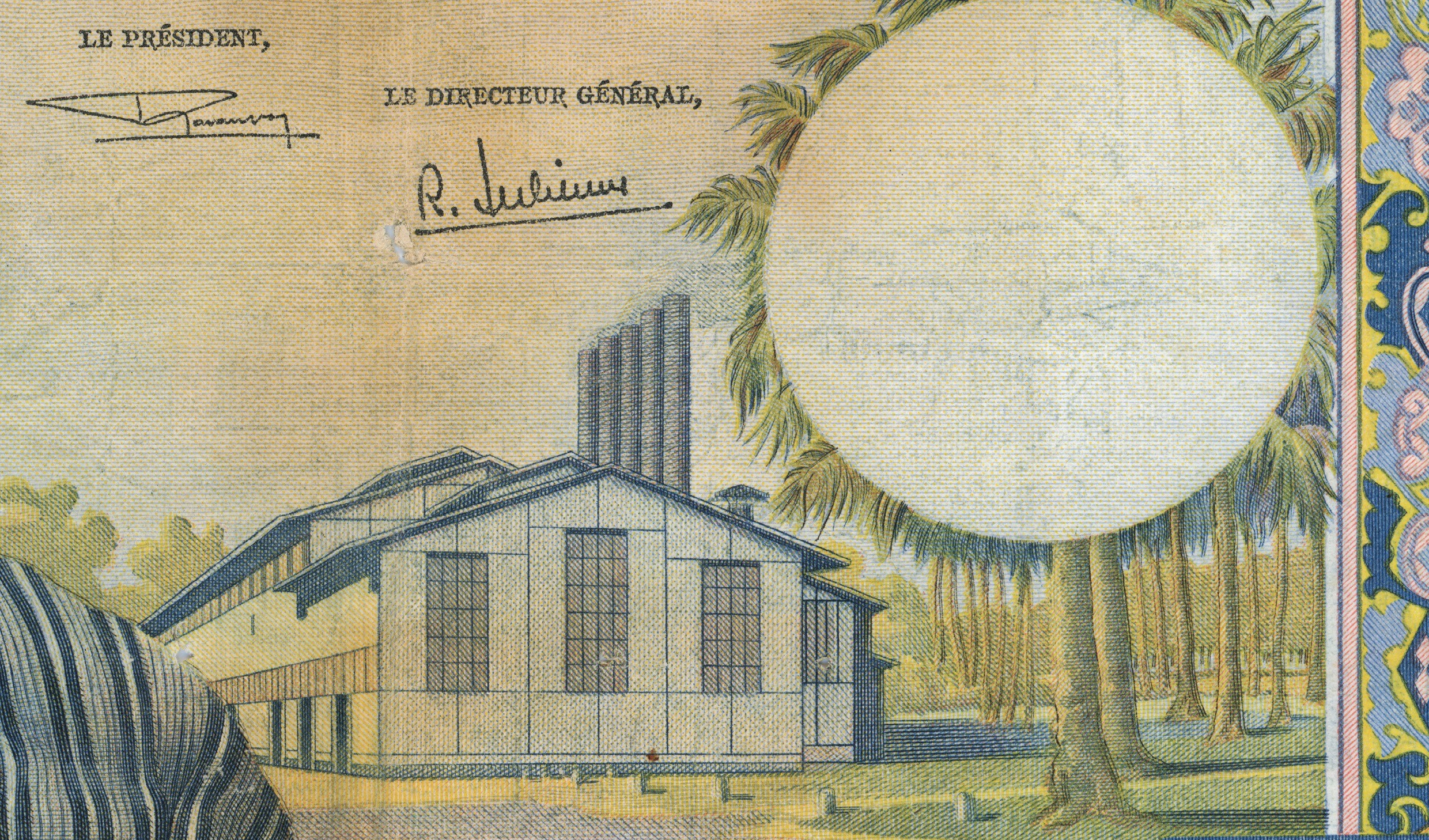 'Nucleus of Capital' is an exhibition by Amsterdam based artist Nina Støttrup Larsen (DK), unfolding the shielded connections between France/EU and the monetary union called the CFA Franc. The CFA Franc is the official currency in 14 African states set up by France in 1945. While other European colonial powers ended their monetary control when the colonies received independence in the 50s–60s, France has continued to manage and govern monetary processes until today. Visually, linguistically and historically this colonial continuum has been shrouded in secrecy, which results in the fact that this is a major sub-currency of the Euro is largely unknown, at least in Europe.
Within the exhibition at POST Nina Støttrup Larsen will present new work of her long-lasting research on extra–European monetary control which has been presented in different exhibition and performative formats at Academy Schloss Solitude (2018) and at the Bergen Assembly (2019). The exhibition proposes an alternative numismatic practice of linking the abstract lines of capital to the concrete visuality of the body of the banknote. 'Nucleus of Capital' is curated by Anna Bitkina and will be the first appearance of the project in the Netherlands.
Image credit: Nina Støttrup Larsen, video still, draft (5000 CFA banknote, 1974, factory, president and French-owned uranium mine), 2021
Extra info
Nina Støttrup Larsen uses artistic strategies and long term research as a tool to plot out global structures of power in relation to economy, legal infrastructures, geopolitics, and the (post–)colonial present. Working with documents, data, texts and video, the works materialise in different editions of installations, performances and publications. Nina was a fellow of the Jan van Eyck Academy (NL), Academie Schloss Solitude (DE) and a resident of the Cité Internationale des Arts (FR). She has worked with news magazine De Groene Amsterdammer, and taken part in various art festivals in Dakar (SN), Port au Prince (HA), Saint Denis (La Reunion, FR). Her installation 'Mercurial Relations' about colonial currency, the West African CFA franc and its manipulation by the French treasury and the European Central Bank was a part of the last Bergen Assembly (2019).
Anna Bitkina is a curator of visual contemporary art, performative projects and educational programs. In her curatorial practice she connects theory, social science, history and philosophy in order to generate knowledge about contemporary reality and its socio-political conditions. In her projects (often durational) she explores the territory of art and contemporary curating to tackle the emergent political and ecological challenges in the time of accelerated capitalism, technological pervasiveness and a sharp rise of complexity. Anna is a co-founder of TOK, a curatorial collective and a research-based art organization founded together with Maria Veits in 2010. In 2020 TOK was the winner of the apexart Open Call 2020-2021 (exhibition 'Voicing the Silence' to be presented in Moscow at CCA Fabrica in summer 2021). In the fall 2021 TOK will curate the main exhibition at the 6th edition of the Photomonth Biennale in Tallinn.