Exhibitions
Outside the Text
Sadik Kwaish Alfraji, Annabelle Binnerts, Nicoline van Harskamp, Laura Jatkowski, Ana Linhares & Natalia Papaeva
Curator: Youri Appelo
24.06.2023 - 24.09.2023
Nijmegen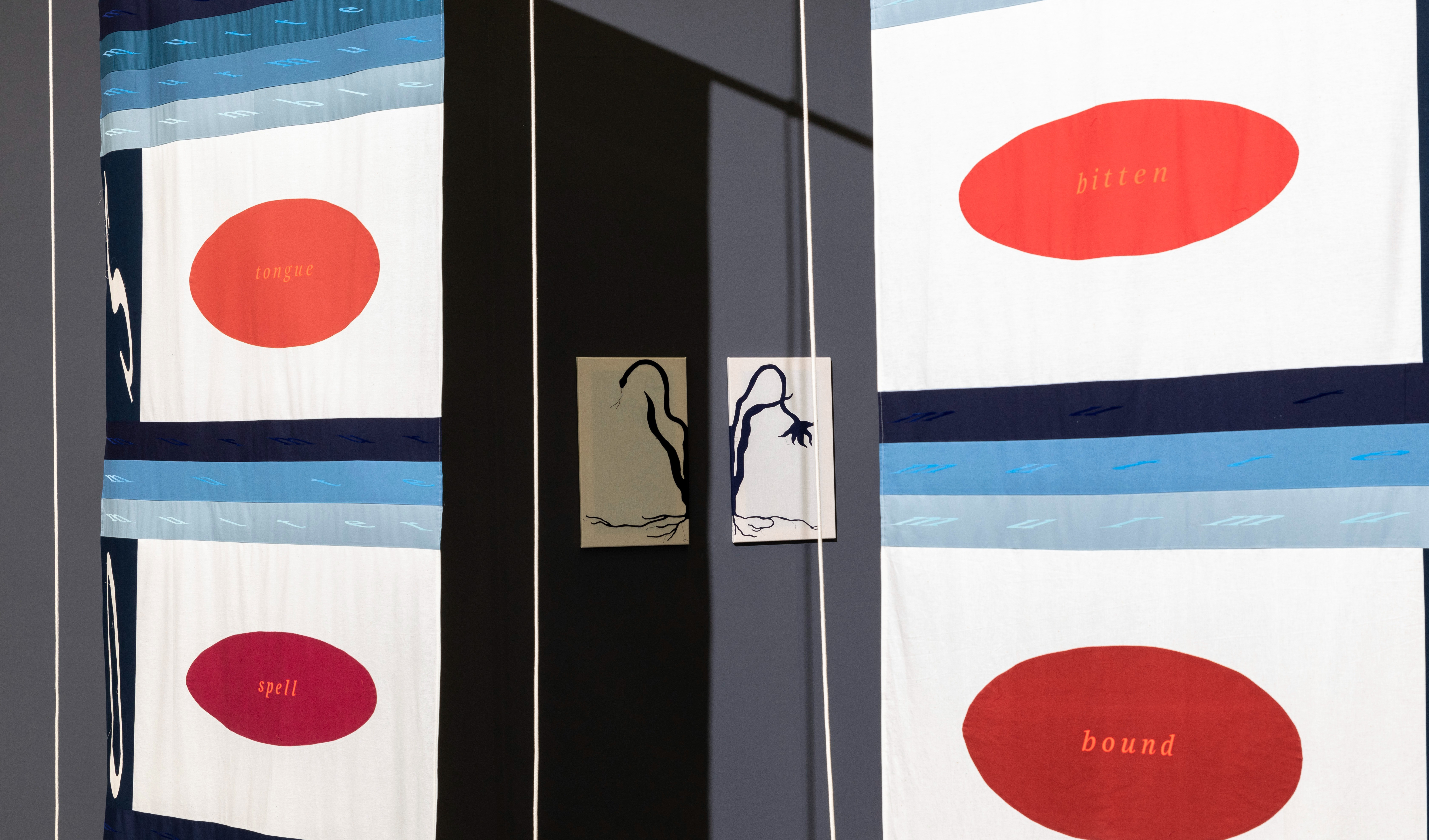 Outside the Text focuses on the question of how language shapes our reality. By assigning words to objects, situations and basically everything around us, we give meaning to our world. To a certain extent you could say that we live in a linguistic reality. Less discussed is whether this also works the other way around; how the same language can also create realities and therefore can hold structures of power in place. At a time when language and specific words are being scrutinized, this question appears to be more relevant as ever. To what extent do words matter? Are there also things left unsaid or gaps in our vocabulary when using language to put forward individual or collective narratives? And how does language (un)consciously create new realities for us?
In Outside the Text a specific commonality between the works deconstructs language on multiple levels, from the individual letter to the construction of meaning. The title of the exhibition refers to a quote from Jacques Derrida "Il n'y a pas de hors-texte" ("there is nothing outside text"). With this idea, Derrida argues that language is in constant flux. Partly because of this, the meaning of language is never fixed. Could this idea also serve as an encouragement to break open entrenched languages upholding power structures?
Extra info
Laura Jatkowski (1990, DE)
Laura Jatkowski studied at the Glasgow School of Art and holds a BA from The Royal Academy of The Hague (2017). She co-founded the artist-run space Trixie, The Hague and was an active part until 2022 when she settled back to Berlin. Her work takes shape in various mediums and forms, from sculpture to installation to video. Laura Jatkowski uses everyday objects such as bikes, fridges or headstones. She is particularly sensitive to the conditions of its production, perception and cultural connotations. This approach has allowed her to challenge our automatic responses to things and redirect them into unexpected ways of seeing. Laura Jatkowski has been nominated for the NN Award (2023) at Art Rotterdam. She has shown at Prospects and Concepts (2023, NL), Parts Project (2020, NL), Art Au Centre (2021, BE), Supermarket Art Fair (2019, SE) and Billytown (2018, NL), among others.
Nicoline van Harskamp (1975, NL)
Nicoline van Harskamp is an artist whose work considers acts of language and solidarity. Her live works were staged, among other places, at the MuHKA Antwerp, Tate Modern in London, KunstWerke in Berlin, New Museum in New York, Arnolfini in Bristol, Urbane Künste Ruhr in Oberhausen, Steirischer Herbst in Graz, Project Art Centre in Dublin, Serralves Foundation in Porto, and the Kaaitheater in Brussels. She has exhibited her video and installation works internationally, and creates online projects such as the Massive Open Online Course Englishes Mooc (www.englishes-mooc.org) and Contagious Speech (www.contagious-speech.org).
Sadik Kwaish Alfraji (1960, IQ)
Sadik Kwaish Alfraji is an Iraki-Dutch multimedia artist who works in drawing, painting, print, photograph, sculpture, video and animation. He pursues his art profession depending on the expressionistic intensity of the graphic and focusing on the concepts of the existence. His work has been presented in numerous solos and group exhibitions in several art venues such as: MoMa PS1, QAGOMA, Queensland Art Gallery; British Museum; 56th and 57th Venice Biennale; Videobrasil; Mori Art Museum; LACMA Museum, LA. USA; Busan Museum of Art; Red Star Line Museum; Stedelijk Museum Amsterdam; Kunsthal KAdE, NL; MAMA Museum, Algiers; Station Museum, Houston; MAMBA Museum, Buenos Aires; CCPLM, Centro Cultural La Moneda, Chile, and many others.
Annabelle Binnerts (1995, NL)
Annabelle Binnerts (1995) is a visual artist and writer. Her work revolves around the idea that reading a sentence can be like stepping through a door; there's another world hidden behind the written words. Words are at the center of her practice, both as subject and material. She works with language like a sculptor works her clay: as a material that can be bent, shaped, and played with. By doing so, language becomes a material that can surround, envelop or absorb you. Binnerts has a masters degree at the Piet Zwart Institute and is currently resident at De Ateliers. She exhibited among others at Kunsthal KAdE, Tale of a Tub, TENT, Casco Art Institute, P/////AKT and Garage Rotterdam.
Natalia Papaeva (1989, RU)
Natalia Papaeva is a performance artist from Buryatia, Western Siberia. Her fascination lies in how people express their emotions through songs, stories, and sound. While her work isn't linear, it follows her curiosity to find out: What happened? Why did it happen? 'What would happen if I opened my mouth?' Natalia earned her degree from the Royal Academy of Art in The Hague and has won multiple awards, including the TENT Academy Award in 2018. In 2021, she held a solo exhibition called 'ik ben' at VHDG in Leeuwarden, The Netherlands. Natalia has also participated in many group exhibitions and festivals across the globe. She is currently doing a residency at Rijksakademie.
Ana Linhares (1990, PT)
Ana Linhares lives and works in Utrecht. They regularly take part in projects in Portugal, Spain and the Netherlands. Linhares holds a BA in Fine Arts, from the School of Fine Arts – University of Porto (2012) and a MA in Fine Arts & Design, focused on artistic research, from the Hogeschool voor de Kunsten Utrecht (2019). Linhares is represented by KubikGallery (Porto) since 2013 and has been collaborating on and exhibiting through different projects and contexts. A selection of recent venues where they exhibited works are BAK basis voor actuele kunst, Serralves Contemporary Art Museum, Hotel Maria Kapel, Bienal de Fotografia de Vila Franca de Xira,Instituto Cervantes Casco Art Institute. They were also the recipient of the research grant from Foundation Calouste Gulbenkian 2018-2019 and Nominee for Novo Banco Revelação 2018 at Fundação de Serralves (Portugal).