Exhibitions
Symbiosis Series
Irene de Boer & Marina Sulima
Curator: Fenne Saedt
21.10.2023 - 17.12.2023
Arnhem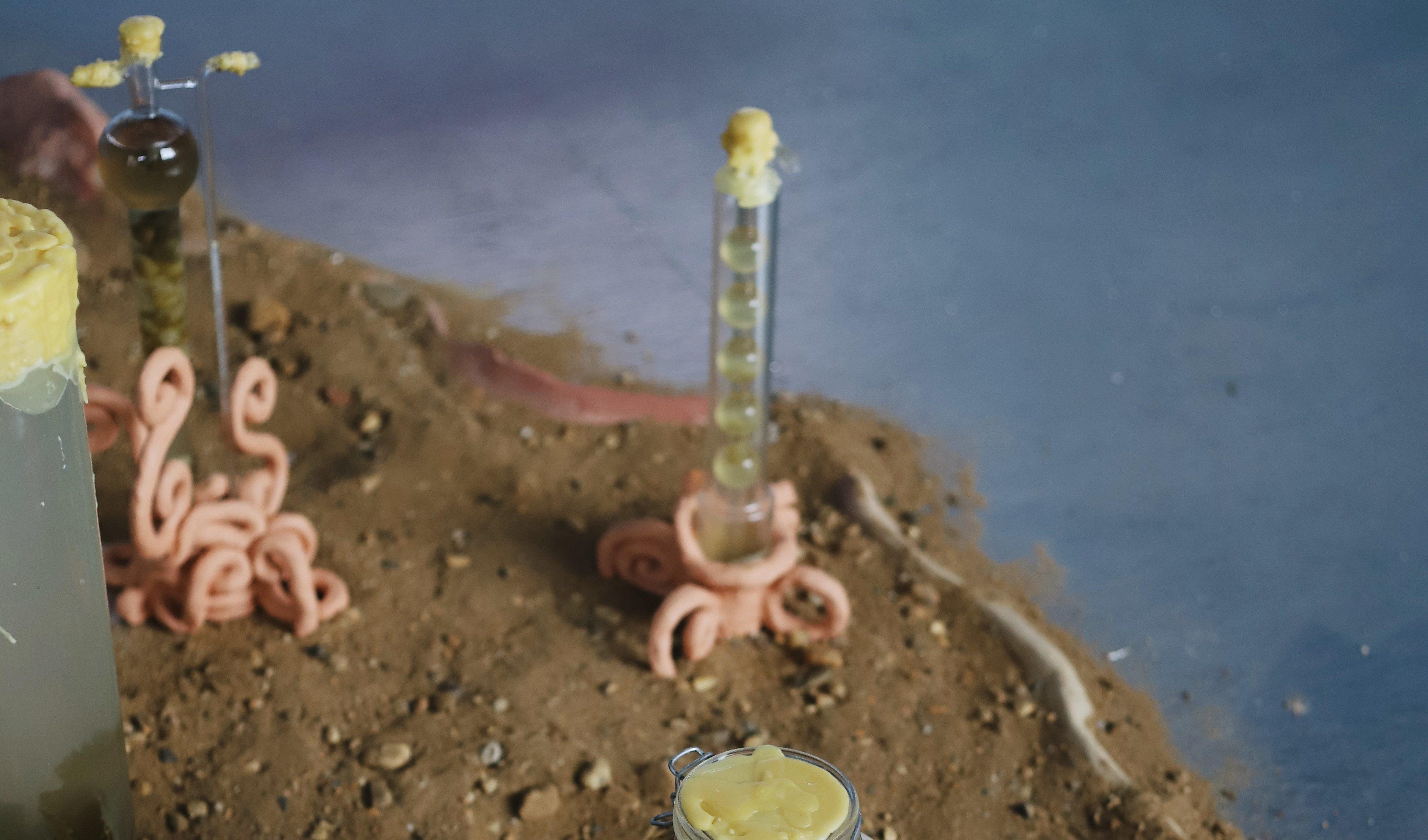 What do we add to the world and what happens to it when we are no longer there ourselves? In their art practice, Irene de Boer and Marina Sulima question how we treat the earth, what we leave behind with it. Because humans may be transient, but the chemicals we produce are far from that.

What minerals are being mined today to create the conditions to grow a simple tomato? And why is there Potassium in a sports drink? De Boer and Sulima share these kinds of questions with us by translating them into art: large installations, sculptures and films that often incorporate recognizable materials such as industrial machines or everyday objects. In addition, both artists are fascinated by recipes for making things grow: from how to 'grow' crystals yourself to how to make a fermented tomato. The works of art they create provide a unique insight into the world damaged by globalization. A world in which, according to them, man-made objects and materials are fossil spirits, artifacts of our time that carry stories with them.
The name Symbiosis Series is derived from the phenomenon of symbiosis : the prolonged and harmonious coexistence of two or more organisms of different species, whereby coexistence in itself is beneficial or even necessary. This exhibition format provides two artists with space, resources and support to experiment and create new work. Participating artists are encouraged to interact with one another in various ways, similar to the natural process of symbiosis. During this interaction exchange and collaboration are possible, while (re)shaping the individual practice. Sometimes the selected artists' work differ in medium or conceptual positions, resulting in an exhibition based on a visual dialogue. Other times their practices are more aligned, making the exhibition itself a single entity.
The artists are free to experiment, explore and break up their modus operandi. It is a collaborative process where artists previously unknown to each other exchange visions, working methods and vim and vigor.
Extra info
Irene de Boer (1994, NL)
Irene de Boer is interested in how patterns with an origin from nature are adopted into culture and how synthetic aspects of our culture, become artificial nature. Her artworks often have a playful and nostalgic feel, while their content often embodies rather complex subject matter. This manifests itself in artworks that combine contemporary techniques with traditional media or everyday materials.
Within her art practice, she collaborates with diverse professionals in the fields of Material Culture, Art History and Organic Material Science, bridging elements in subcultures; pop culture, street-culture. She lives and works in Amsterdam. In 2016, she obtained her Bachelor of Fine Arts from Academie Minerva Groningen. After completing her Master of Arts in Painting at the Frank Mohr Institute in Groningen in 2018, she spent time at CalArts: California Institute of the Arts and Otis College of Art and Design in the US. Her work has been shown at W139 Amsterdam (NL), S.M.A.K Ghent (BE) and is included in several private and institutional collections in Canton (Guangzhou) (CHN), Lorain, Ohio (USA) and Los Angeles (USA), among others.
Marina Sulima (1996, MD)
Marina Sulima uses illustration, animation, textiles, sculpture and film to tell stories about worlds that seem derailed. This translates into animated narratives with absurd logic in which fact and fiction alternate. For this, she draws inspiration from speculative maps, found manuals or encyclopaedias but also from seemingly insignificant things like shrimp ears, mined stones or tomatoes. She uses these everyday or, on the contrary, alienating objects to explore the landscapes of a globalised and ecologically damaged world.
Sulima grew up in Moldova and currently lives and works in Groningen. In 2020, she obtained her bachelor's degree in illustration from Academy Minerva Groningen. Besides her art practice, she gardens, collects seeds and gives art workshops to children. Since 2020, she has been working on an essay film about tomatoes and different ways of being in the world with them, produced by Manon Bovenkerk, NearBy Film. She is also working with Olivia D'Cruz and Belangtelon Initiative for Noorderlicht Gallery on an ongoing project on extraction.