Exhibitions
What Are Men to Rocks and Mountains?
Ingrid Burrington, Rocio Berenguer, Kordae Jatafa Henry, Melissa Schwarz, Louise Silfversparre, Marjolijn Dijkman, Nella Piatek
Curator: Lieke Wouters
09.07.2022 - 09.10.2022
Nijmegen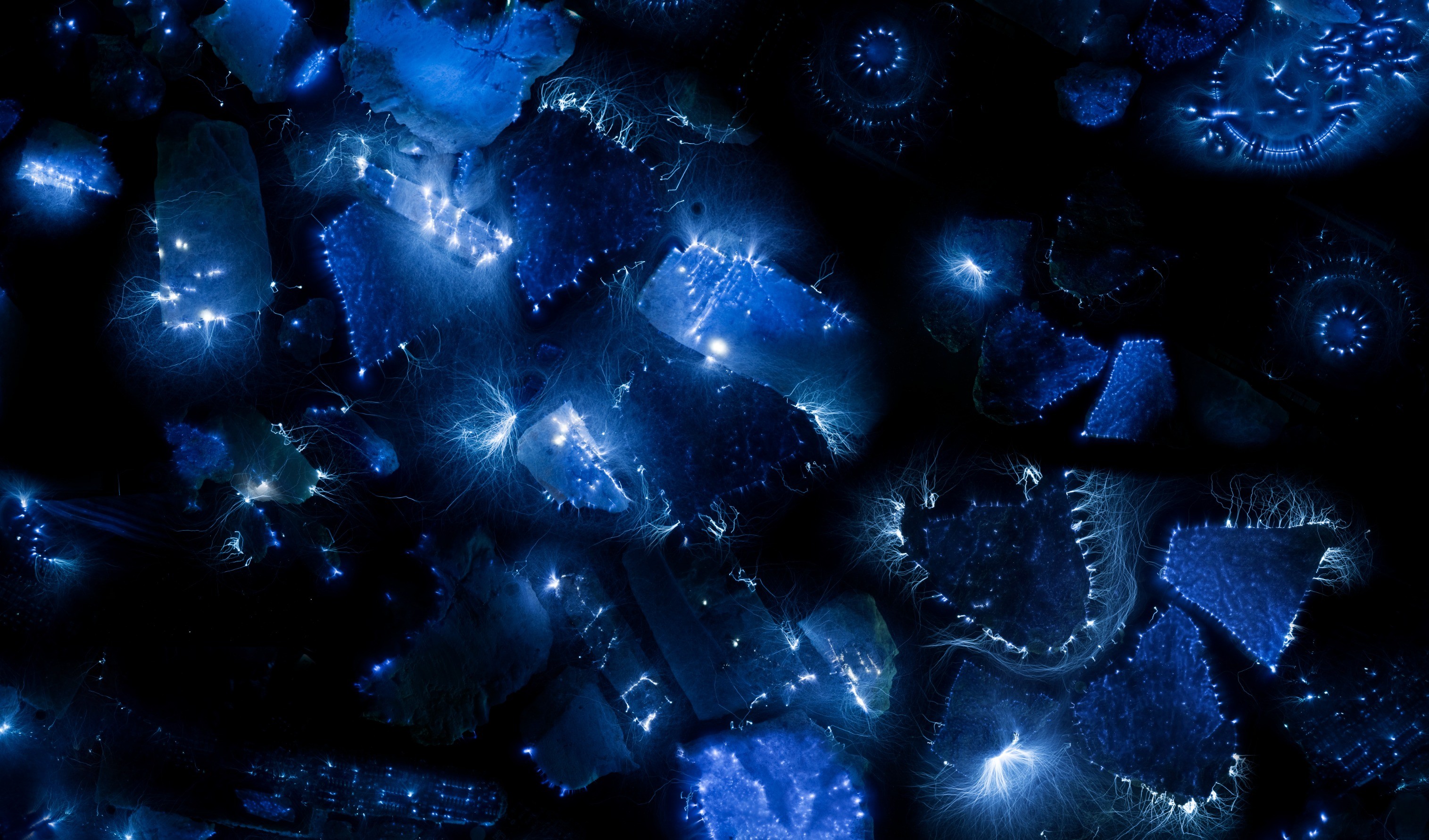 The foundation of our digital world can be found beneath our earthly surfaces. We mine lithium in Chile for our batteries, and use cobalt from Congo for magnets. Computer chips are made from silicon, and we seal our devices with Indonesian tin – holding our smartphone we literally have the world in our hands. At the same time, this process is disrupting the earth through large-scale mining to extract these minerals, resulting in inhumane working conditions, mountains of e-waste and ecological destruction.
These consequences of extractivism – the extraction of natural resources from the earth, such as minerals, to be sold on the global market – are often overlooked. The dominant narratives are about economic growth, digital progresses and sustainable innovation. More and more mineral resources are being extracted for our growing 'green' energy supply and information technologies.
By subverting these dominant narratives with spiritual, magical and speculative perspectives, the exhibition makes room for the often underexposed stories of extractivism. They deal with military gain, complex production chains, neo-colonial exploitation, political conflict, and irreversible ecological consequences. The hidden stories are told by cyber-witches of the future, gods of rare earth, phantoms of nostalgia, and the minerals themselves.
Magic runs like a thread through the exhibition – not to disguise extractivism in mystery, but rather to dig up what is hidden by the dominant narratives. By means of alienation, critical reflection is given on the current situation of mineral extraction. In this way, our ideas of what a natural landscape actually is are examined, and the impact of extractivism on it gets emphasized. New rituals question our fleeting relationship with our smartphones and laptops, which were not built to last for a long period of time. They shine a light on how this planned obsolescence contrasts sharply with the systematic exploitation of workers in the production of our devices.
Utopian vistas depict new ways in which minerals are no longer part of unsustainable capitalist structures that push us towards irreversible climate disasters. The artworks in What Are Men to Rocks and Mountains? rebel against our endless desire for innovation and control, to which the extraction of minerals is inextricably linked. They regard minerals as independent entities that are given a voice in a world in which Western people are no longer the center of attention. For what are men compared to rocks and mountains?
Platform P–OST is closed in August due to the summerholiday. On the first of September we are open again.
Extra info
Ingrid Burrington
Ingrid Burrington's (US) artistic practice focuses on mapping, documenting, and identifying elements of network infrastructure, drawing attention to the often overlooked or occluded landscapes of the internet. By examining the geographic contexts and material realities of the network, she seeks to both demystify these technologies and to articulate the underlying politics and power dynamics of networked systems and life within an increasingly networked society. She is the author of Networks of New York: An Illustrated Field Guide to Urban Internet Infrastructure.
Rocio Berenguer (ES) is interested in the major challenges and changes of our contemporary world - including the evolution of spaces of individual freedom within our society, the place of technology in our daily lives, environmental issues. For each creation, Rocio begins a work of investigation and dialogue with scientists that generates a text that then matches with other materials, preferring to hybridize different mediums - text, dance, videos, digital art - rather than restrict herself to a single practice. Rocio Berenguer lives and works in France.
Kordae Jatafa Henry (US) is a Los Angeles-based filmmaker and visual artist. Kordae wrote, directed and VFX'd his first short in 2019 entitled Earth Mother, Sky Father. This film has led him to nominations, residencies and exhibitions online and around the world. Where flesh meets animation, performance meets the virtual, Kordae's work instills a techno-ontological study of Blackness in the 21st century. This radical re-imagining of cinema grounds his work and allows him to collapse narratives of the past into the near future.
Melissa Schwarz (DE/UK) is an interdisciplinary artist, designer and researcher. Her research and practice are mainly concerned with topics around ecology, environments and speculative futures. As such she examines socio-political narratives, nature concepts and multiverse theories. She creates work which uses different media for her poetic storytelling, from more traditional mediums to 3D.
Louise Silfversparre (SE) is a 3D designer who graduated from Beckmans College of Design in 2020 with a bachelor's degree in Visual Communication and has been working within the field of 3D since then. Her work often centers around nature and technology and how the two themes can be linked.
Marjolijn Dijkman
Marjolijn Dijkman's (NL/BE) practice is research-based and multi-disciplinary including film, photography, sculpture and installation. Her practice focuses on the points where culture intersects with other fields of enquiry. The works themselves can be seen as a form of speculative-fiction; partly based on facts and research but often brought into the realm of the imagination. Her work is concerned with residues of enlightenment ideology, manifestations of collective memory, blind spots of representation. For the past two decades she has realised projects on various types of knowledge production including social history museums, fields of scientific enquiry and forms of collective imagination. Marjolijn Dijkman lives and works in Belgium and France.
Nella Piatek (PL) is a designer and researcher studying the evolution of the human in conjunction with digital technology, along with the implications and values that this entanglement conjures. By working with digital technologies and creating small changes within their existing digital networks, she investigates new outputs that allow for critique and conversation around current states and their possible futures. Her work explores anthropological futures and socio-technical imaginaries, where poetic introspection and rituals are used to touch upon the themes of faith, impermanence, and the infinite search for a sense of self within the digital context.